While working from home has become the "new normal," many companies are now bringing employees back to the office. If your company plans to bring all employees back at once, implement a hybrid model, or will give employees a choice, it is important to be prepared with safety and sanitation measures to help keep your employees safe and comfortable. While some are feeling anxious about returning to the office for a number of reasons, there are new technologies available to ease anxieties when it comes to health and safety.
Enter Safely
That first step back into the office is a big one, and that step should not be taken by anyone showing signs of illness in order to protect the well-being of everyone else in your building. Here are some basic steps you can take to improve safety measures at the entrance of your workplace:
Wellness survey: Create a short, online survey for all employees and visitors to complete before they enter the building. This survey should ask whether they are experiencing any symptoms and can serve as a reminder to anyone entering the building that if they are unwell, they should not enter.
Temperature scan: There are many options for temperature-scanning technologies out there, but our favorites right now are the

Aurora Tauri Temperature-Check Tablet

and the

Protect98 Temperature Sensor w/ Facial Recognition

. Both of these are self-serve options, which means you don't need to risk exposure to a front-desk employee by having them take everyone's temperature.


Aurora Tauri Temperature-Check Tablet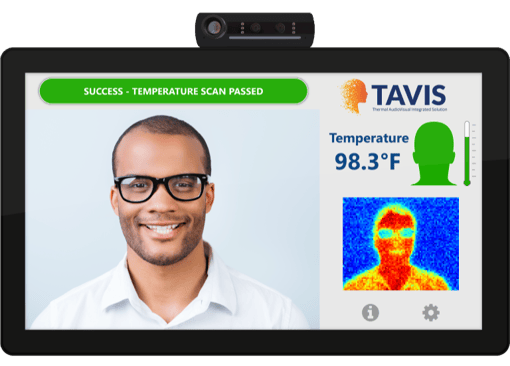 Protect98 Temperature Sensor w/ Facial Recognition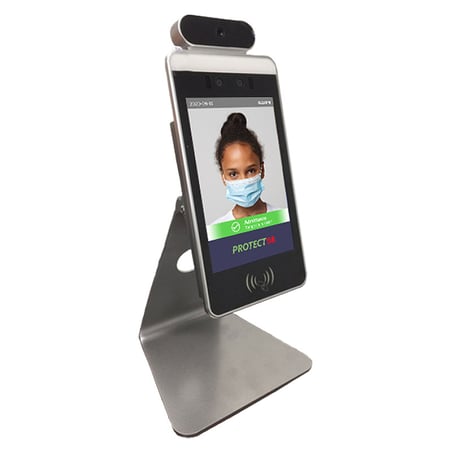 Keep Employees Safe and Workspaces Clean
Once employees are in your building, there are simple steps and tools you can use to maintain sanitation and safety throughout the work day. Digital signage is a great way to communicate with employees and visitors, post reminders, and encourage hand-washing and sanitation.
NoviSign combines digital signage with a hand sanitizer dispenser, which is great to post near entrances or other common spaces in your office.
Reach out to Bluum Technology
Bluum Technology has been preparing their own offices for the safe and gradual return of employees and visitors for the last few months, and we'd love to share our recommendations as you get ready to welcome people back to the office. While we can't guarantee that our methods and technologies will absolutely work against the spread of germs and illness in your office, we have done our best to implement as many safety and sanitation measures as possible and can help you do the same. Contact us directly for more information.