With pandemic-related restrictions in the rearview mirror, people are gathering en masse again. Meeting areas, classrooms, lecture halls and entertainment venues are in demand. So are projectors that give the spaces visual punch. Projectors are also essential business tools for organizations embracing work-from-anywhere and hybrid environments. While flat panel monitors have increased in size (think about those monster televisions on sale every Black Friday), projectors are the best way to ensure crisp visuals at 100 inches or more. They are indispensable in large spaces where people in all corners of the room need to see content clearly. They are also important to team collaboration and clear communication when numerous people join a meeting from far-flung locations.
When to choose a laser video projector
Every organization looks for solutions that get the job done without breaking the bank. Projectors are one of the most cost-effective ways to incorporate visual communication into any setting, indoors or out. Traditional lamp-based projector engines can be an economical choice at first, but laser engines improve long-term performance (brightness fades as bulbs age) and save money over the life of the equipment, a minimum of 10 years of operation if it's kept on at full brightness for a full workweek. There are additional cost savings in terms of the labor required to maintain lamp-based engines over time. Classic metal halide projection lamps also require more energy to run and have an increased risk of overheating.
Beyond the more traditional use cases for projection systems such as classrooms and meeting spaces, projection solutions offer incredible detail at a scale. They can be used on a variety of projection surfaces and in situations that might be cost-prohibitive. For example, projection mapping with specialized image content software can create visual effects that bring building facades and other large vertical surfaces to life. If you're curious, check out the amazing installation pieces by artist Craig Walsh, who projects provocative images onto trees.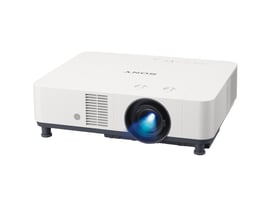 As projectors get brighter, they can also compete in ambient-lit environments where traditionally they would hide in the shadows, figuratively speaking. Imagine the surface of a projected image—a hallway, perhaps—displaying interactive content akin to a touch screen.
Training simulators use projectors, too, for immersive experiences that mimic real life. From the entertaining—golf simulators that enable you to visualize fairway details as you step up to the tee box—to the lifesaving, such as pilot flight training simulators, most training systems employ projection technologies.

What type of video projectors are available for commercial use?
Projectors vary based on their light source or light engine (lamp vs. laser). They can be sorted by brightness (lumens), picture clarity (resolution), and how far they can project into the space (throw distance). There are a multitude of technologies to consider—LCD, DLP, RGB, LCOS and more. A thorough use-case analysis will illuminate the right solution for any space. Depending on the size of the projection environment, specialized lensing may be used to accommodate very short or very long throw distances. Placement of the projection system can also determine which kind of projector to select.
What to consider when selecting video projectors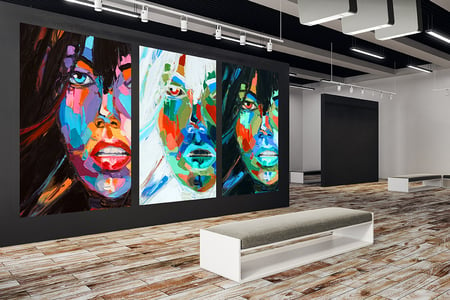 A thorough discovery process can reveal just how impactful the right projector and projection system can be. Here's a short series of questions that will get you thinking about your visual display. Projection system designers, engineers and integrators, such as the expert team at Bluum, can work with you to turn your ideas into visually rich spaces that inform and inspire.
Where will the projector be used?

What are the lighting conditions?

How far, or how close, will the projection unit be placed relative to the projection surface?

What kind of content will be displayed? Will it be color-critical information, detailed plans, drawings or text-heavy content?

Is there an aerosolization of materials within the projection operating environment that may reduce projector longevity?

Does the projection system need to realistically immerse a trainee into a simulated environment, whereby the success of training simulations can have real-world outcomes for potentially life-saving situations and operator readiness?



Sony laser projectors offer exceptional visual quality
Unparalleled image quality is Sony's guiding light. Sony designers and engineers take pride in delivering the highest quality video projectors that are technologically sophisticated yet incredibly simple to operate. The new, ultra-compact VPL-PHZ61/PHZ51 3LCD laser projectors pack all of Sony's latest projection technologies into a slim and lightweight body that delights audio/visual (AV) teams, integrators and viewers alike: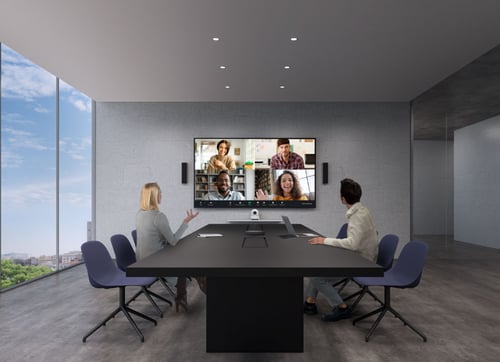 • AV teams will love the optimized performance thanks to Intelligent Settings V3.0, a sealed light source module, and an all-new dust filtration system with a dust sensor and simple, slide-out filter access.
• Integrators will appreciate installation flexibility with wide +55% vertical lens shift that can project onto ceilings and other tall surfaces, data cloning for multi-projector set up, and 4K 60P input support.
• Viewers will also enjoy amazingly bright and crisp images of up to 7,000 lumens center brightness, with Reality Creation, Reality Text, Bright View and the new Ambiance Light Sensor.
There's even something to please the budget hawks—with laser phosphor light technology, Sony projectors offer 20,000 hours of use with minimal loss of brightness. They're more cost-effective in terms of design, and they lower the total cost of ownership over time.
Sony puts the audio back in AV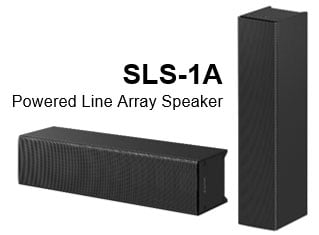 In recent years, the AV industry has experienced an incredible renaissance of emerging display technologies and innovative formats. During this time, few manufacturers have continued to hone both their sound and display capabilities for a truly seamless experience across mediums. Unless silence is the expectation, most projection systems marry projectors, screens (unless a different surface is used) and speakers to produce the desired effect. The compact Sony SLS-1A delivers spectacular sound with fine beam control and flexible installation for large display installations, projecting sound waves that immerse participants in distortion-free, crystal clear audio content no matter where they are in the room. The modular, line-array speakers can cascade across the environment (up to six speakers) with supporting software to create the ideal soundscape, from a fully immersive experience to precisely targeted audio by zone. In more compact spaces such as waiting areas, meeting rooms and classrooms, sound fields can be adjusted to the room size, configuration and intended use. They can even be painted to blend seamlessly with any surface.