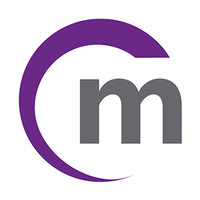 Magnet 360
St. Louis Park, MN
The Challenge
When Magnet 360 was looking to create the perfect new office space for their employees in St. Louis Park, they knew they wanted state of the art technology with design aspects focused on a musical theme.
The Solution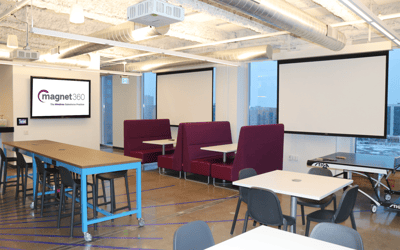 In "The Garage," a large multipurpose room, you will find a 98" display for video windowing and two 65" displays. One screen was installed to transition from landscape to portrait mode for software demos, which allows clients to see the product displayed the way it would on a smartphone. "The Garage" is also outfitted with two 86" touch displays on mobile carts for ultimate flexibility and collaboration. High-tech cameras and ceiling mounted microphones allow for optimal virtual meetings, along with an outstanding sound system that can be heard through the entire space if needed. A wireless touch panel control system runs the entire space and makes it easy for anyone to use. Included in this electronic system is connectivity to motorized blinds, for both light filtering and room darkening.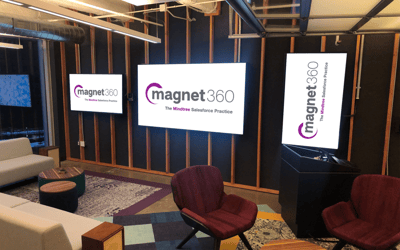 There are two other rooms similar in size and technology, and seven huddle rooms, seven focus rooms and five project rooms. Each of these rooms has a mixture of 55" UHD display, Polycom Trio phone, Visual+ Collaboration kit and USB web cameras. This was one of the largest corporate installations Bluum has been a part of, and one of the most fun. Magnet 360 was a great collaborative partner in this project, and we look forward to seeing exciting growth and success from them in the future.